Security service professionals, company executives and college students gathered inside the Milwaukee School of Engineering's Grohmann Museum Auditorium Wednesday morning for the Cybersecurity Summit put on by Brookfield-based SysLogic.
The summit informed attendees about new technologies in cybersecurity and how they can protect their businesses. The summit concluded with a panel discussion made up of professionals from Johnson Controls International plc, Briggs & Stratton, SysLogic and academics from MSOE. Here are four takeaways from the panel.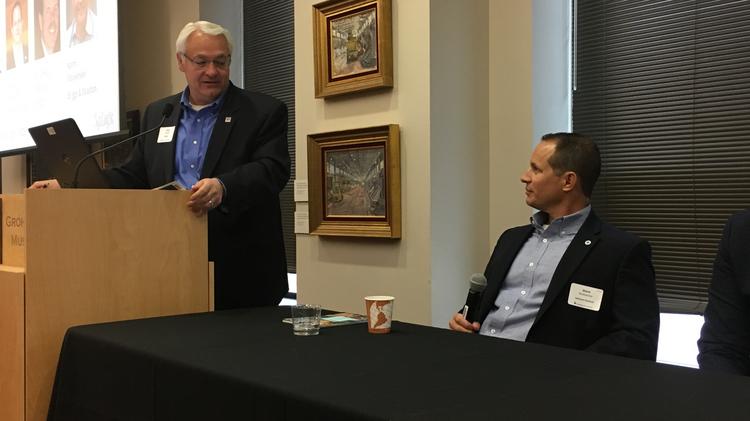 Wisconsin needs a Ph.D program for cybersecurity. A Ph.D degree program for cybersecurity is not available in any of the higher level educational institutions in Wisconsin, said panelist Jeff Blessing, a professor at MSOE and a computer network security consultant, but it's "high time education institutions implement these," he said. As an example, Waukesha Community Technical College offers an associate of applied science degree to become a network security specialist. Blessing said the pressure needs to be put on educational institutions, starting at the high school level, to make cybersecurity a priority.
Artificial intelligence will play a role in cybersecurity. People clicking on links or opening emails they shouldn't is among the biggest problems facing companies when trying to protect their data, panelists said. Those links or emails contain malware that can lead to outsiders obtaining passwords and account information. Businesses will be subject to ransomware attacks every 14 seconds by 2019. As of 2017, the average impact of data breaches for businesses was $7.35 million, according to data distributed at the summit.
Read the full article here.